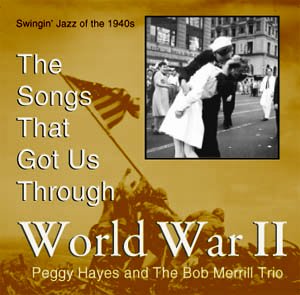 ---
The Songs that Got Us Through WWII
Swingin' Jazz of the 1940s
Copyright, 1999 - All Rights Reserved
Performed by:
Peggy Hayes and the Bob Merrill Trio
Released by:
Razzle- Dazzle Records, 1999, P.O. Box 41, S. Pomfret, Vermont 05067
Distributed by: Peggy Hayes Music, 1814 Carrington Drive, Raleigh, NC 27615
---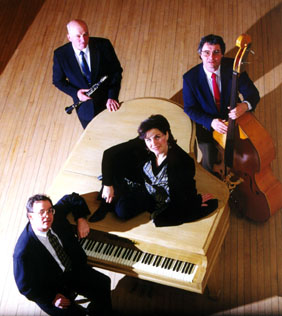 Peggy Hayes and the Bob Merrill Trio
Read more information about CD

Neal Charnof, former host of "Jazz in the Evening" at Vermont Public Radio says, "Peggy Hayes swings with a voice that's enchanting and always on target. Through her, the Songs of World War II are reborn with spirit, charm and poignancy."
Frank Behrens, reviewer for Entertainment Times, Brattleboro Reformer, Showcase Magazine, Art Times, and Amazon.com said about the CD:
"This recording offers up 19 songs, only one of which refers directly to the War but all of which have that optimistic bounce or bittersweet hopefulness that is utterly essential to help us through times of great crises. Ms. Hayes has a voice just made for these songs composed so long before her birth; and all four musicians treat them with the respect they deserve."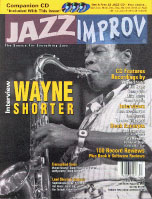 Jazz Improv Magazine
By John Barrett, Jr.
FDR was certain about one thing--for America to be its strongest at war, the morale must be good on the home front. Sports carried on with the president's blessing, movies continued in all their splendor--and of course there was music. A fascinating time; the masters of Tin Pan Alley were still writing hits (Harry Warren, Rodgers & Hart) and the next generation was starting its run (Johnny Mercer, Billy Strayhorn). What a time to buy records; everything here either hit or was written during America's war years, and most still have resonance. When this group played this program in a 1998 concert, the reaction was great. So is mine—if these songs lifted a nation, they'll help on your bad days.
Interesting decision, there are very few songs about the war, like "We'll Meet Again" or "White Cliffs of Dover." Instead they chose love songs and novelties—stuff that got your mind away from the war. That works, and so does the group. Hayes' voice winks at you: the warble is angelic, but has its worldly side. (Hear her say "fire" and "love".) She teases on "Daddy" (just a hint of Betty Boop!) is hopeful on "Love is Here" and intimate on Sentimental Journey." The Forties are often called "brassy"; that isn't Peggy, but all else is there.
Lots of praise to the boys in the band; Ingalls' sinewy bass; Langford sandpapery clarinet, down at its depths. A breathy voice, Merrill's, joins Peggy on half the tunes, mostly on counterpoint. He's relaxed and cooly hip; he tries a Louie Armstrong voice on "Choo, Choo," which I think a mistake. He scats very well; when they trade vocals on "Blue Moon," the result is magic. There are solo's, but most are short, and rarely divert your attention from Peggy. Considering her voice, that is a good thing.
"Another You" is a series of duets; Ingalls walks and Peggy charms. When he leaves, Langford steps in, luscious and low—then it's Merrill for a splashy chorus. She's torrid on "Is You Is." She reads the words straight, and makes 'em sound real. Behind her Merrill's blues run deep—you expected anything else? "Nice to Come Home To" has lots of that bass, with a forceful turn from Langford. And of course, we have Peggy—here's where she says "fire"!
She blooms on "I'll Be Seeing You." This may be lonely, but you will be smiling. (Quite airy on the high notes; Bob's solo is good 'n' lush.) The voices trade madly on "Ac-cen-tuate," each wanting their chance with those wonderful words. Langford sings too, his interjections are best on sax. "Darn That Dream" hits you like tears on a pillow; piercing words and long lonely chords. Langford hums some cheer, but it's no use; the mood is delightfully set. It's even stronger on "Lover Man" (a sweeter voice makes it hurt more) and then whisked away on "Dream." Langford strolls lazily and Peggy's a flute, cooing an optimism you don't hear these days. How warm it is, like the return of an old friend. Songs like these were needed in times like those. And nowadays, they work just fine.
###