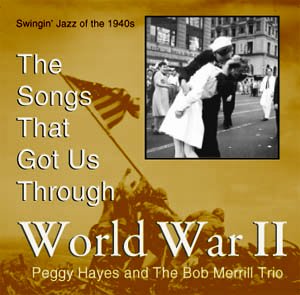 ---
The Songs that Got Us Through WWII
Swingin' Jazz of the 1940s
Copyright, 1999 - All Rights Reserved
Performed by:
Peggy Hayes and the Bob Merrill Trio
Released by:
Razzle- Dazzle Records, 1999, P.O. Box 41, S. Pomfret, Vermont 05067
Distributed by: Peggy Hayes Music, 1814 Carrington Drive, Raleigh, NC 27615
---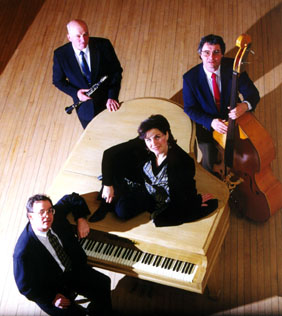 Peggy Hayes and the Bob Merrill Trio, clockwise from keyboard, Bob Merill, vocals and piano, Terry Langford, clarinet and saxophone, and Glendon Ingalls, string bass.
Read more information about CD
Peggy Hayes and the Bob Merrill Trio
Jazz vocalist Peggy Hayes started singing jazz over 25 years ago at Creative Music in Wethersfield, CT. She continued her studies in music, theatre and dance at Florida State University and graduated with a B.A. in Theatre. While pursuing her acting career in NYC for eleven years, Peggy sang with her blues band.
In '93, she moved to Vermont, and worked in many schools teaching acting and improv, doing issue oriented drama, and directing plays. Co-founder of Memorial Hall Center for the Arts in Wilmington, Vermont, Peggy spent five years as artistic director producing events at the non-profit center. In '99, Peggy Hayes and the Bob Merrill Trio released their CD entitled The Songs That Got Us Through WWII, Swingin' Jazz of the 1940's.
Peggy sang with various jazz ensembles around the northeast before relocating to North Carolina in 2002.
December 7, 1941 is perhaps the most significant date in World War II history, but it also holds personal significance for Peggy Hayes. On December 7, 2000, her son Quinn was born.
Piano player, vocalist and bandleader, Bob Merrill, has played bass and piano professionally for 28 years. By day he is a producer and engineer at his South Pomfret studio. He is a regular with Swing Machine, a larger swing group which plays throughout New England.
Bass player, Glendon Ingalls, is a music educator/performer from Barre Vermont where he is music educator. He performs regularly in a variety of settings including string bass with the Ryles Jazz Orchestra of Cambridge, MA, trumpet with the Vermont Jazz Ensemble, and tuba with the Onion River Jazz Band.
Reed player, Terry Langford of Northfield, New Hampshire is a veteran performer who spent many years as a road musician in the Midwest playing traditional jazz with some of the masters of that genre--Smokey Stover and the Firehouse Five; George Brunis of the New Orleans Rhythm Kings; Louie and Tony Bellson and the Andy Shapiro Band to name a few.